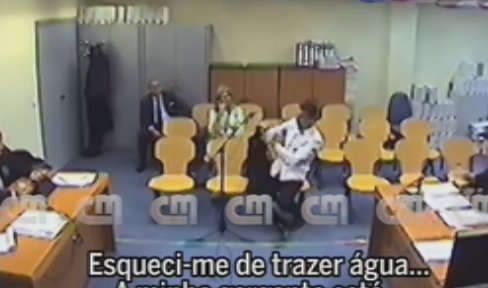 Ronaldo's testimony leaked
"Look me in the eyes, I am not hiding anything," were just some of the words spoken by the Portuguese as he denied the charges brought against him.
Ronaldo initially asked the judge to talk more slowly and was noticeably more edgy than usual.
The Portugual international could be seen fidgeting uncomfortably before he launched into a passionate insistence of his innocence.
Ronaldo's problems with the Spanish tax man were well documented earlier in the summer and 42 days after his appearance in front of a judge, the above video of the Portuguese testifying has been leaked in his homeland.
"I would like to return to England," Ronaldo stated, when questioned over his alleged tax fraud.
"I paid everything that applied to me. Also, I don't understand much of this sort of thing, I left school at 16," insisted the 32-year-old, who at one point asked to be brought a drink as he looked visibly stressed.
Ronaldo later told the judge that the case against him would not be an issue if here weren't the star he is.
"If I wasn't called Cristiano Ronaldo I wouldn't be sat here," he stated, leaving the judge distinctly unimpressed.
The former Manchester United man appeared before the judge in July, with this leak only going to prove that nothing stays hidden for long.
"I had people to manage everything for me, I wasn't worried about my taxes. In England I always paid everything and I look in your eyes and tell you the truth. I have always told the people that work for me that I will never hide anything. If you earn a lot you have to pay. Whether that's in Spain, England or any other country. I always told them not to mess around with these things," Ronaldo explained.
"I always presented everything as requested, I have people whose job it is to do these things and here in Spain I have done the same. I paid in 2014 and said that if I needed to pay any more I would. The last thing I want is problems, I just want to concentrate on my football," the Portuguese told the judge.
"Whenever I go somewhere, whether it be England or Spain, I always pay everything because they always know. I know that my managers do the best and they did what the counry's laws said, with me there are no ploys.
"Of course I believe in the people that work for me. If I can't trust in them, who can I trust in?" Ronaldo responded after being quizzed as to the reliability of his aides.
The Portuguese also leapt to the defence of his agent Jorge Mendes, saying: "Jorge Mendes doesn't understant any of this. His speciality is trying to get the very best contracts for his players. He doesn't know about taxes and the like. He is honest and he doesn't have a bad bone in his body."
Ronaldo's testimony lasted around an hour and a half. "It is ridiculous that a person who gives so much to Spain is here. My tax returns were correct. I understand your job," said a nervous Ronaldo.
The lawyer representing the Spanish Tax Office, who admitted to being a fan of Ronaldo's, insisted that there were problems with Ronaldo's tax return, but the player still maintained again and again that there was no such problem.
Despite his protestations, Ronaldo failed to convince the attorney of his innocence: "I assure you and I repeat that there is no evidence to show that that what your assessors have done is correct, I have not found a single piece of evidence that says that your managers paid the correct amount."